Secure Website Hosting
IS YOUR DENTAL WEBSITE NON-SECURE?
Would you enter a website which highlights in-secure notices? You would probably be alarmed and click away very quickly just in case it harmed your PC or generated a virus. With secure website hosting this would not happen and not only would you be protecting your website, but your patients too. So why is it important to be aware of this and how will it affect your website and your patients? Read on…
INTERNET BROWSERS ARE CHANGING
With GDPR (General Data Protection Regulation) affecting all businesses in the UK as well as multi-national organisations across the globe, websites and companies which provide online services such as internet browsers will all need to comply in order to protect internet users. The latest version of Google Chrome is already highlighting web pages without an SSL certificate and secure website hosting. It's just a matter of time before other popular internet browsers such as FireFox, Safari and Internet Explorer will be doing the same and we all use them.
Find out more about GDPR for dental websites >
WHY UPGRADE TO SECURE WEBSITE HOSTING?
It is not essential to upgrade to secure website hosting as it is not a GDPR compliance requirement however, it is important to understand the effects it could have on your dental website traffic. If patients are looking for a dentist online and the search engines present the user with a list of dental practices, the patient is more likely to feel safer landing on a website that is not highlighted with security issues. Not only this, if the patient is wanting to book an appointment online, the blank spaces on an enquiry form will display non-secure notifications to warn the user that they are entering information on an insecure website.
HOW CAN I TELL IF MY WEBSITE IS SECURE?
All website addresses have prefix letters before the domain name. You can see this at the top of most internet browsers or listings on search engines where a non-secure website will start with 'http'. HTTP stands for hypertext transfer protocol which refers to the way we communicate on the internet. With secure website hosting the prefix will start with 'https'. The 's' stands for secure and most banks, shopping websites or websites that deal with sensitive information or financial transactions will be on a secure server with a dedicated SSL certificate.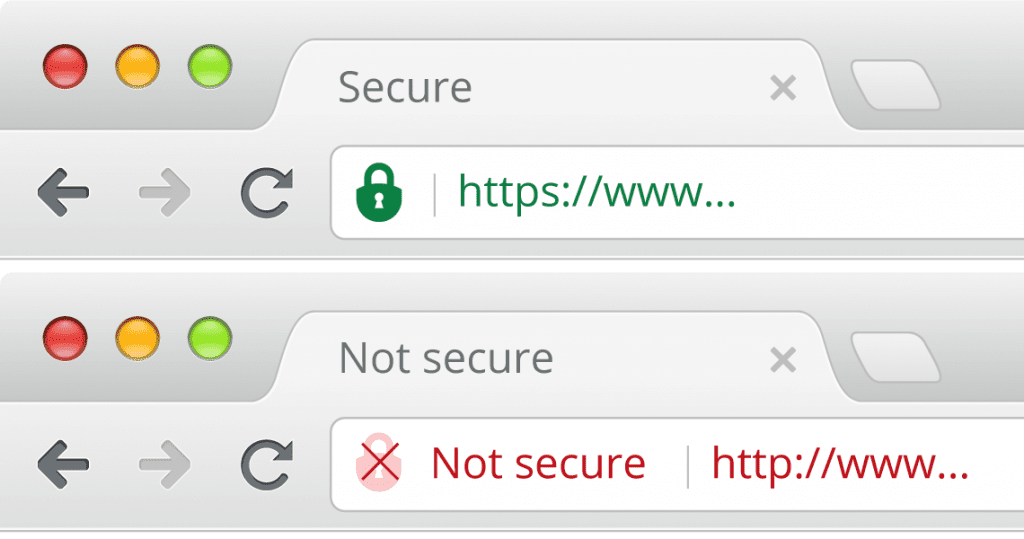 PROTECTING YOUR PATIENTS
Many dental websites include appointment request forms, 'ask the dentist' forms and patient referral forms. These can contain some sensitive and personal information about your patients so it would be wise to make your website a safe place to interact with. By upgrading to a secure website hosting platform you are adding that extra layer of security for the patient. Data which is entered on a patient's internet browser will then be encrypted when it is sent through your website and received by you. Now you have to ask yourself whether secure website hosting will be beneficial for you and your patients. The answer is simply 'YES'.
BENEFITS OF SECURE WEBSITE HOSTING
There are other benefits to an HTTPS server. Google prefers websites on a secure hosting platform which will boost your rankings on the search engine listings. Secure hosting packages are more expensive than standard website hosting but they do generally have more advantages to entice people to upgrade. This could include servers with more reliability resulting in less downtime and their download speeds are greater than standard HTTP servers.
HOW DO I SORT OUT MY SSL?
Speak with your website designers who can advise you of the most appropriate solution for your website. Your IT company may also be able to help or you may even be in charge of your own internet hosting. If so contact your hosting company and they should be able to offer you various options to choose from.
Find out more about our dental website hosting packages >
DENTAL MARKETING & DENTAL BRANDING
For more information about secure website hosting call Alex Nicolaou on 01923 609770 or to find out more about making the most of your dental brand and marketing opportunities.
www.design4dentists.com >
[contact-form to='hello@design4dentists.com' subject='Generate ROI From Your Website'][contact-field label='Name' type='name' required='1'/][contact-field label='Email' type='email' required='1'/][contact-field label='Mobile' type='text'/][contact-field label='Website' type='url'/][contact-field label='Comment' type='textarea' required='1'/][/contact-form]