Scottish Dental Show 2016 (Stand F3) Websites & Mobile App Offer

DESIGN4DENTISTS – SCOTTISH DENTAL SHOW 13th & 14th MAY 2016
There is no stopping us this year, design4dentists shall be on the road again and visiting the Braehead Arena in Glasgow on Friday 13th and Saturday 14th May 2016.

DENTAL WEBSITE DESIGN, MOBILE APPS & MUCH MUCH MORE…
design4dentists have been established since 1999 providing dental practices in the UK and abroad with high quality branding and bespoke marketing tools to help dentists, orthodontists and specialists attract the patients they are looking for.
Other than referral based marketing, in my opinion there is no better patient generating tool than a professionally created website. Now dentists are able to extend their marketing opportunities even further by engaging patients with a fully branded mobile phone application. This is an easy way to connect with your existing patients and entice them to invite their friends and family who can find out more about you and your dental practice.
So if you don't already have a mobile app or a website yet…or your website is dated, non-compliant or non-mobile responsive, then now is a great opportunity to create two of the most amazing marketing tools for your dental practice.
Come and visit design4dentists at Stand F3 at the Scottish Dental Show in Glasgow to find out more.
design4dentists are offering a free dental app design if you sign up for a new website package on the day you visit us at the show.
SPECIAL SHOW OFFER – FREE MOBILE APP DESIGN
Alex Nicolaou will be available to discuss all your current marketing materials from logos to literature, domains to websites and can demonstrate to you how you can generate more patients with the latest patient engagement tool. We'll also show you how easy it is for existing patients to refer your practice to their friends and families.
Ride the wave of the digital era with your own dental practice app packed full of the following features:
• Fully branded with your practice identity
• List services, fees and smile galleries
• Online bookings and enquiries
• Create loyalty programmes
• Send push messages
• Recommend a friend schemes
• Client management software
• Apple & Android phones and tablets
• Easy to find and download on App Store and Google Play
• Free system upgrades
DOWNLOAD DESIGN4DENTISTS APP FOR MORE DISCOUNTS
There are also exclusive discounts available on design packages if you download our mobile app today. Simply visit our website by clicking the link below and follow the simple instructions: dental mobile app
BOOK YOUR ONE-TO-ONE TODAY
Design and brand director Alex Nicolaou will be representing design4dentists at all the dental shows this year and you can book your 'one-to-one' appointments now by calling 01923 609770.
See you all at the show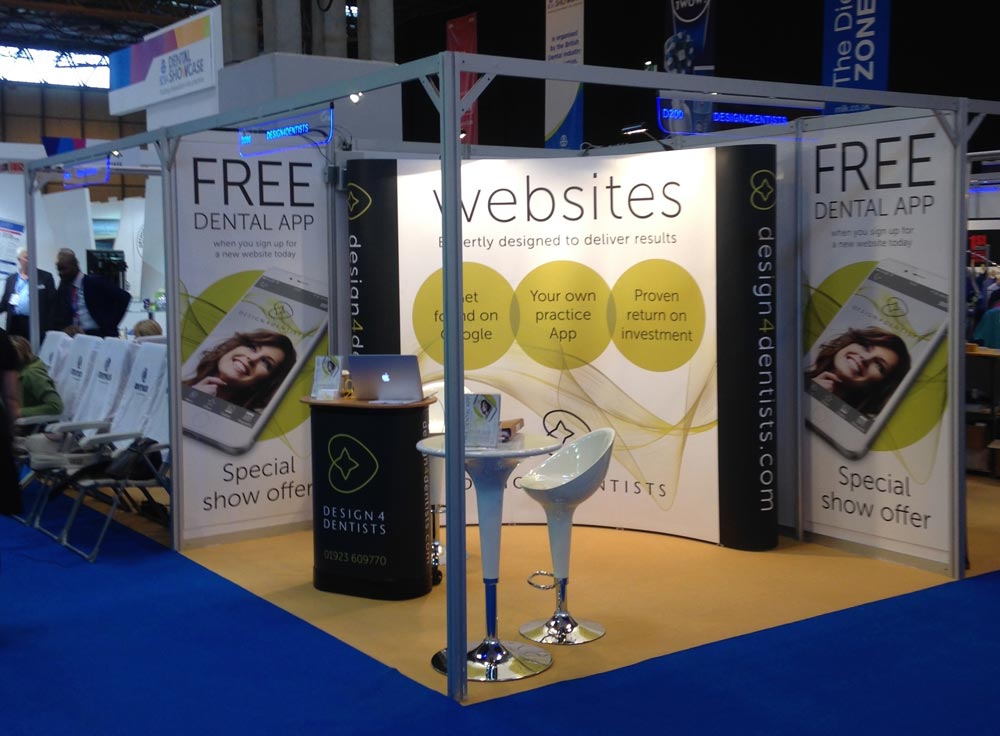 If you would like to find out more, please visit www.design4dentists.com
or call Alex Nicolaou our Brand & Design Director on 01923 609770