The Dental Road Show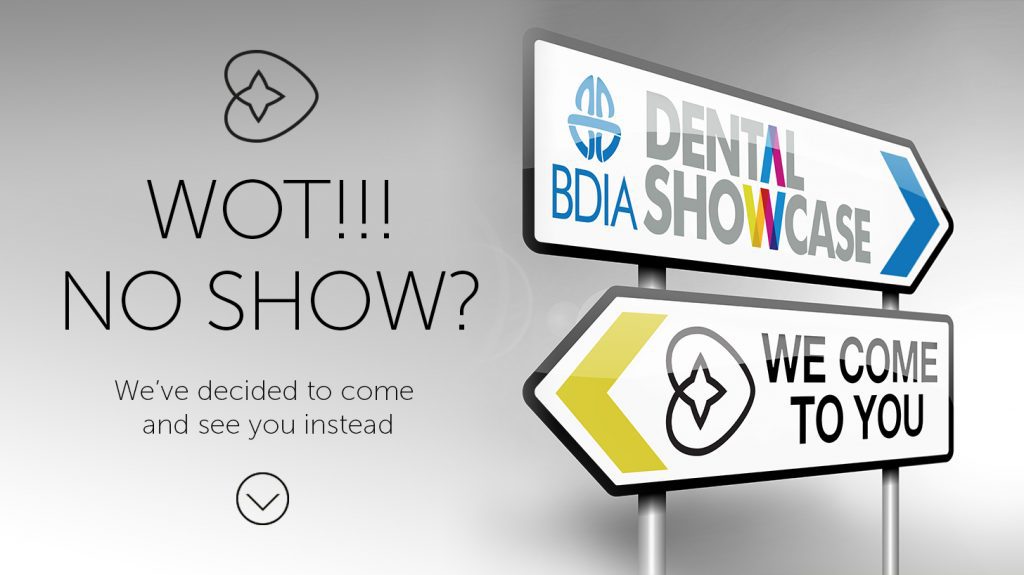 DESIGN4DENTISTS WILL COME TO YOU
This year design4dentists will NOT be exhibiting at the BDIA Dental Showcase. Instead, we've decided to bring the dental road show to your practice. By visiting you at your convenience, we can provide you with instant and more definitive advise about your brand than we could at any dental show.
WHY ARE DESIGN4DENTISTS NOT EXHIBITING?
Your dental brand means more to design4dentists than a short conversation. Plus, when design4dentists travels on its dental road show there are lots more benefits for the dentist. At most dental shows, we are limited in time to have a full discussion about your needs and queries. By visiting your dental practice or potential new squat practice, we can spend far more concentrated time with you which will provide you with more valuable information. We also know you always want to speak to an expert, not a sales person. Exhibition shows can be difficult to speak with the right person or your questions may take time to answer.
WHAT ARE THE BENEFITS OF VISITING THE DENTIST?
There are lots of reasons why setting up a meeting at a dental practice will be an advantage for the dentist:
• More consultation time
• Convenient for the dentist
• Enable us to spot immediate marketing opportunities
• Able to identify your local competition
• Visit like a new patient would see your practice for the first time
• Give you lots of branding tips and advice
• Demonstrate our portfolio more easily
• Experience a hint of our dedicated service
• And its FREE!
KNOCK KNOCK
We know dentists have very little free time and when visiting the BDIA Dental Showcase, there is so much to see and do in a day. So let us travel to you and meet you at the comfort of your own dental practice. This way you can spend time asking any questions about your branding and marketing. design4dentists travel all around the UK throughout the year. Once a month we carry out a dental road show to certain regions whether it is the North East, the lake district, Manchester, Liverpool, the midlands or the south of England. Wherever you are, any dental practice can be visited and if necessary, we can be on your doorstep within a day or two. If you wish to set-up a meeting, simply contact 01923 609770 and find out when we will be in your area.
WHAT DO WE HAVE TO OFFER?
design4dentists are experts in designing brands and dedicated marketing campaigns for dentists and orthodontists. We create and provide the following dental services and products:
• Dental Logos
• Dental Websites
• Signage
• Stationery
• Welcome Packs
• Dental SEO
• Advertising
• Photography
• Dental Apps
DEAL OR NO DEAL
By NOT exhibiting at the BDIA Dental Showcase this year, design4dentists want to pass these savings onto you. If you invite us to meet you at your dental practice then we will
bring our prizes with us. You could benefit on the day if you want to seal a deal at our meeting. There will be no black friday offers this year so this is your only chance to win a prize.
Follow design4dentists on Instagram or Facebook and keep up to date with all the latest branding ideas, marketing opportunities and our bespoke portfolio.
MAKE YOUR APPOINTMENT TODAY
Simply call our dental road show team on 01923 609770 if you would like to request an appointment or email hello@design4dentists.com