Dental Website Design – A Set Up Guide For Success

TOP TEN DENTAL WEBSITE TIPS
A dental website can be a significant investment and requires research prior to deciding on the right dental website marketing company to produce what should be regarded as your most important marketing tool. It is also a shop window for your dental practice and a showcase for you personally as the principal dentist to communicate your expertise, approachability and areas of specialisation. For some reason, many dentists still feel that they do not require a website but this is unthinkable in this digital age!
The single quickest and easiest way for the public to source a dentist – whether for NHS dental treatment or private/cosmetic dental treatments – is by searching online. Smartphone or tablet website searches are increasing and will soon overtake PC's/laptop searches so ensure that your dental website marketing tool is being created in a mobile responsive format.
A business without a website will be considered by most to be 'in the dark ages'. People expect to research all kinds of health and public services online and want to be able to see testimonials, case studies, photos and biographies of the dentists as well as make appointments online.
The most important thing to realise is that a dental website is an ongoing investment – not a one-off cost – but if constructed and well maintained, it will pay for itself within a very short time, even with ongoing high cost monthly development and dental SEO fees.
The second most important thing to consider is that ideally, before investing a significant sum in a website, your practice should have a professional logo and brand identity in place. Part of your website's purpose is to reinforce your dental brand.
This article will give you essential tips and highlight common mistakes made when commissioning a dental website.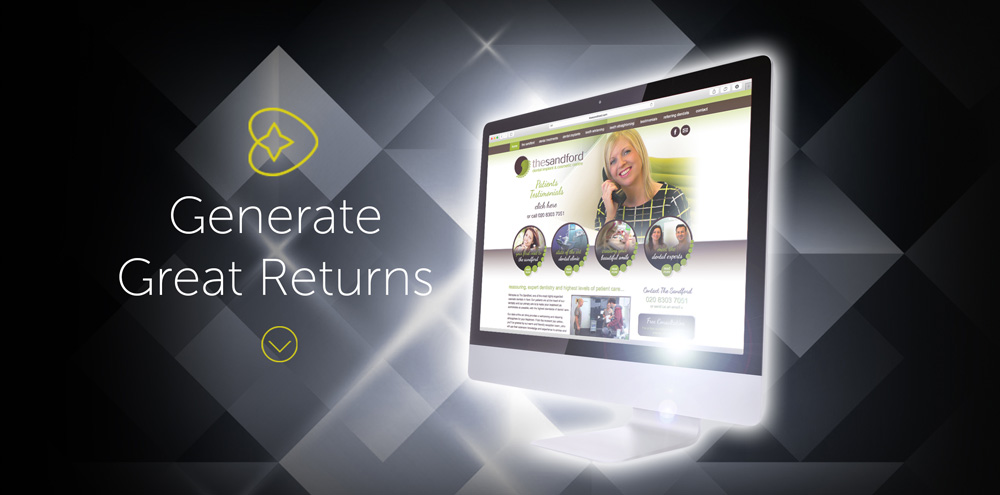 1. REGISTERING A DOMAIN
If your dental website marketing agency are registering your website address on your behalf, ensure it is with a legitimate domain registration company, written in your business name/personal name only. This will avoid any future problems proving that you are the owner of your domain.
Register your new dental domain here >
2. LOW COST WEBSITE HOSTING
Be wary of cheap hosting facilities. You do not want your website to be advertising other companies through banner advertising. Also, low cost hosting providers may place your dental website on unreliable servers with limited bandwidth resulting in lots of downtime and your website being offline for hours or days. Avoid hosting providers abroad as they may have different time zones making it difficult to respond quickly to your support enquiries.
Find out more about website hosting here >
3. WEBSITE DESIGN: PRICE OR PERFECTION?
Prices vary hugely but don't just be sold on price. A cheap dental website solution is unlikely to achieve a good return on investment and will leave you doing most of the work to provide information and instruct the website designer. It may also mean your website could be created by a junior designer who will not have the necessary experience about your industry and what you are offering. There are only a few dental website marketing companies who are experts in your industry; choosing a company which specialises in dentistry, and paying a fair price for what is essentially your most important marketing tool, will make it far more likely that you will get the website that you need: to really differentiate your dental brand, to attract and inform patients, reinforce your brand and achieve results.
Don't be caught out with a cheap dental website >
4. UNLIMITED PAGES – DON'T BE FOOLED!
If a dental website marketing company offers you 'unlimited pages', consider how many you actually require. Most of these pages will end up with a small picture and minimal content which are not informative or effective when searched for on the Google. A typical dental practice will only require approximately 25 pages and a larger practice offering more treatments or specialist services maybe up to 40 pages. It is far more beneficial to have pages containing high quality information about a service, with more precise content that makes worthwhile reading for the patient. This does require more time and effort to create and more planning and preparation with your dental website marketing company, but if you include good content set out in the right way, you are more likely to generate an enquiry, capture greater interest and gain higher search rankings. Remember – CONTENT is king, not the number of pages.
Find out about your different dental website packages >
5. WRITING OR COPYING TEXT
Ideally you should write your own copy or use a copywriter. Do not use copy that is generic and beware of copy that is supplied to you for free. It may have been used on other competitor dental websites and you could end up with your domain being suspended or eliminated from use on search engines (blacklisted). Duplicate content is also a big problem for your SERP (Search Engine Ranking Position) ranking. Search engines want to provide users with unique, relevant content; if your copy is repeated exactly on every page, you are going to have problems. Make sure each page is unique, and that you have content that is unique to your website. Your dental website marketing company should advise you of your options should you not have the time available to write text yourself.
Does your dental website package include copywriting? >
6. PHOTOS: ARE THEY IMPORTANT?
Good quality, high resolution photos of your dental practice, your team and the kind of patients you are looking for are essential for your dental website. A picture paints a thousand words and enables the potential patient to identify with your practice and offers them the reassurance they are looking for. Dentistry is a personal, invasive medical service so potential new patients like to see a friendly approachable dental team and a practice that looks clean, modern and hygienic. A good dental website marketing company can provide photography (or recommend a good professional photographer) and fully licensed, legal photo library images.
Does your dental website package include photography? >
7. MANAGING MY OWN WEBSITE
Many dentists like the idea of updating their own website but in reality, many do not have time to update them and spend unnecessary fees for their website to accommodate a CMS (Content Management System). If you are not making daily, weekly or monthly website changes then there is no point in having this facility. A dental website marketing company will have the capacity to carry out your instructions at far greater speed and there is much lower risk of accidentally breaking links or destroying vital coding. Also, the downside of having a website built around a CMS is that it restricts the design making it look very conventional and basic in its layout.
Refreshing and updating your dental website >
8. UNLIMITED WEBSITE UPDATES
Easy to sell but in practice a dental website marketing company may not be able to accommodate lots of constant changes to your website each month with a low priced maintenance package. Many low cost or free options end up with website changes not being carried out for days, weeks or even months and often the changes you have instructed appear incorrectly. Many website companies that offer low cost maintenance solutions outsource the work abroad so language and time delays can cause problems. If you expect good, fast service, you must expect to pay a fair price for it.
Maintaining your dental website >
9. DENTAL WEBSITE MARKETING (SEO)
Many SEO companies randomly phone businesses promising a top position on page 1 of the search engines at very little cost. But don't be fooled. No one can really guarantee a number one position for your dental website on the organic free listings. If an SEO company does promise you this with a popular keyword then beware of duplicated content or spam linking which could mean your website being blacklisted or falling down the rankings once your website has been detected for cheating. A professional dental website marketing company will have monthly dedicated dental SEO packages and a strategy to grow and develop your website to enhance your ranking organically without the need for additional advertising fees.
Strategic website planning and advanced dental SEO >
Also remember, your website does not have to be at the very top of page one to be successful, if your brand and your website appeals more than your competition it'll provides the user with the confidence they need to make a decision.
10. REVIEWING YOUR WEBSITE
A website is not just a one-off cost. It is an ongoing investment for your business and if you want to generate a good return  then you must choose a dental website marketing company that will show you how to get the most out of your dental website. Regular reviews, development, monthly maintenance and analysing web traffic will ensure that your website continues to deliver a constant source of new business to help your business grow. A well designed website with regular updates and improvements, will soon become your most essential marketing tool and will pay for itself many times over.
Read about how we prove website ROI >
If you would like to find out more, please visit www.design4dentists.com
or call Alex Nicolaou our Brand & Design Director on 01923 609770