Useful SEO Terms For Dentists
SEO TERMS FOR YOU TO UNDERSTAND
I have created a list of common SEO terms which you may find useful to know. Search Engine Optimisation can be quite complex but when you hear or read about popular SEO terms, the explanations in this blog post may help you understand what's involved and why they are important for your dental website.
WHAT IS SERP?
SERP stands for Search Engine Results Page which are the result listings seen in Google, Bing, and Yahoo etc.
WHAT DOES URL STAND FOR?
URL stands for Uniform Resource Locator. This is, in essence, an address that helps your online browser to find a website or individual web page on the internet. See the example screen-shot below:


ORGANIC SEARCH RESULTS
Organic Search Results are the search engine results which are not sponsored or paid for like an advert such as Google Adwords.
ARE META TAGS IMPORTANT?
Meta Tags are one of the more popular SEO terms. These are statements listed on the search engines which are written within the background coding of a web page. They provide internet users with a brief summary about the content displayed on the web page before the link is clicked. Having unique and accurate META titles and description tags are a very important because search engines rely upon these to determine what information the user is looking for. Also, they are the first impression that users see and read about your web page within the SERPs.
Meta title – in blue (above website link) up to 70 characters
Meta description – in black (below website link) up to 320 characters


WHAT ARE H TAGS?
H Tags and H1/H2 Tags 'H1' stands for 'Heading 1'. Simply put, this is the main heading of a website page. H2 is the second most important heading and this goes down to H6. All web pages are structured with a hierarchy so that search engines read through them in order to draw the correct information. By making a line of text an 'H1' tag, you are telling search engines that this heading or statement is the most important part of the text on a web page and to read it first.
Example of H1 tag in larger text like a heading in a newspaper article, book or magazine:


CREATING CROSSLINKING
Cross-Linking is the art of creating links within a website. In a very traditional website layout, you might have a home page and then many other pages which it links to such as page A, page B and page C. The home page would contain links to these but cross-linking involves creating links from Page A to Page B, Page B to Page C, Page C to the home page, Page B to the home page and so on.
WHAT IS ALT TEXT?
Alt Text (Alternative text, alt attributes, alt descriptions) are used within a web page to describe the appearance and function of an image on a page.
WEBSITE FOOTER
Footer is included at the bottom of your website. This usually contains helpful SEO content such as your company name, address, map as well as useful page links throughout your website. Here is how an optimised website footer may appear: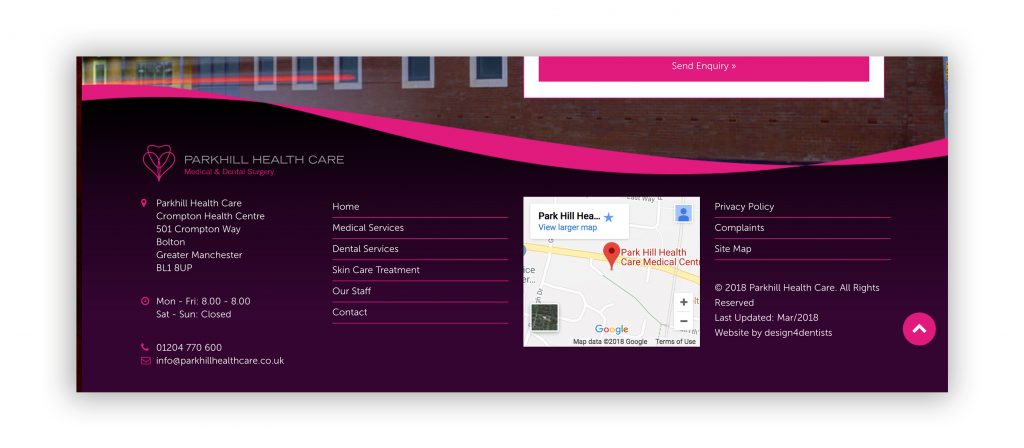 WHAT IS A NAVIGATION BAR?
Navigation Bar or otherwise known as the menu bar is usually located at the top of your website in order to help viewers navigate their way around the site. Below displays a portion of a web page with a menu that includes an extended menu drop-down facility.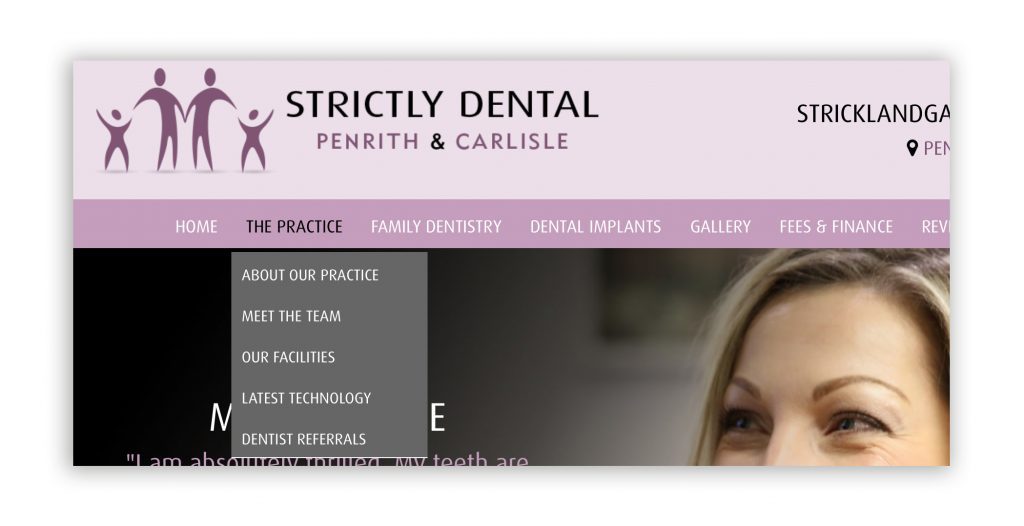 WHAT IS A BACK LINK?
Back Links (inlink, incoming link) are any links to your page or website from any other webpage, website, blog or directory.
LINK BUILDING
Link Building in SEO terms is about actively cultivating incoming backlinks to a website. It can boost traffic to a particular source of popular information and can be a useful SEO task.
KEYWORD RESEARCH
Keyword Research is all about discovering keywords appropriate for targeting your key audiences. With the right keywords included on your website or webpage, you can help your website to be found more easily on the search engines. See example below: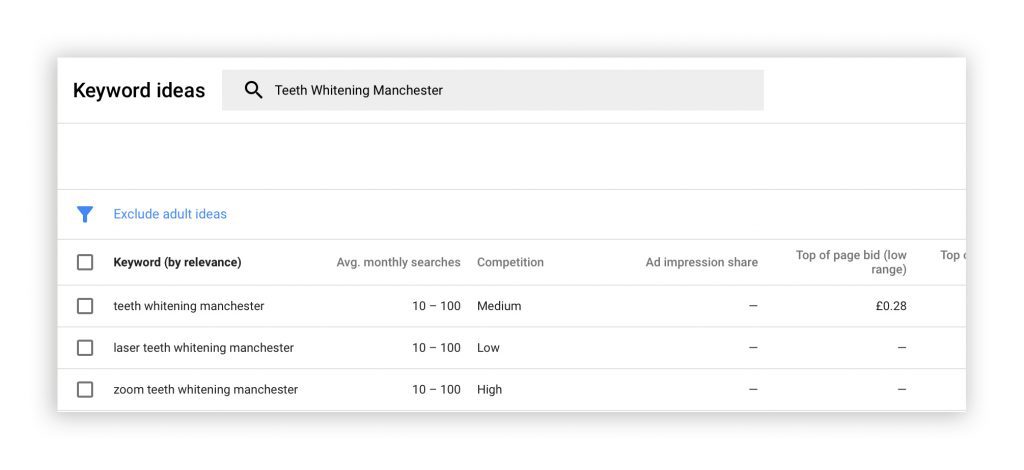 LANDING PAGES
Landing Page is the page that an internet user opens and reads when they click on a link in a SERP.
DEFINITION OF CONTENT
Content (text, copy) is the part of a web page that contains valuable information for the user.
WHAT IS CONTENT BUILDING?
Content Building (text, copy) is all about adding more text, imagery, illustrations and videos to a website. Google favours pages of at least 500 words or ideally up to 1000.
KEYWORD DENSITY
Keyword Density is another popular SEO term which is the percentage of words on a web page that is of a particular keyword. If this value is unnaturally high then the page may be penalized.
AVOID DUPLICATING CONTENT
Duplicate Content is similar or identical text content to that found on another website or page. A site may not be penalized for serving duplicate content but it will receive little if any trust from the search engines compared to the content that the search engines consider being the original.
WHAT IS A BLOG?
Blog displays additional content for a website which presents itself in a more or less chronological series.
SCHEMA/STARS
Schema/Stars Schema.org is the result of collaboration between Google, Bing, Yandex, and Yahoo! to provide information to search engines to help understand website content. Adding Schema markup to your HTML improves your SEO as well including additional benefits such as enhancing SERP results that are displayed beneath the page title. These make your listings look more attractive to viewers and therefore, they are more likely to click on your website link.
Example of Stars in SERP: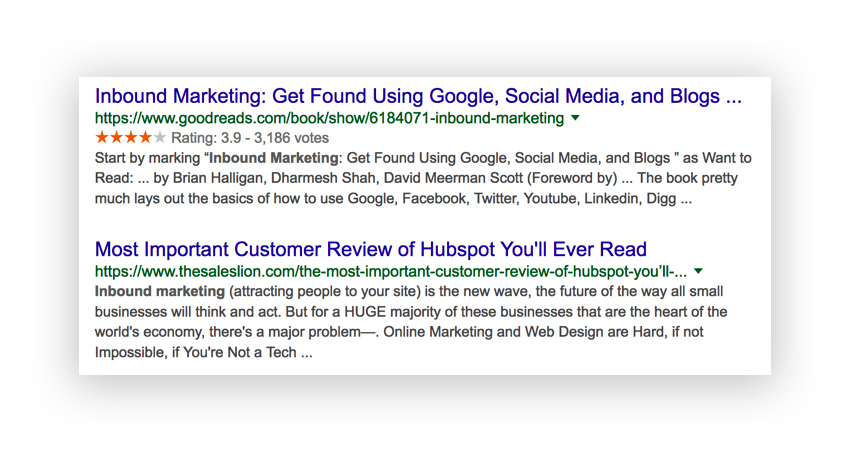 WHAT IS A PAGE 404?
404 page is one of the most common errors you can come across while browsing the Internet. A 404 or Page Not Found error often occurs when you follow a broken link or if you type in a website address that doesn't exist. A 404 page can be customised to help explain a problem or to redirect users to another page.
REDIRECTIONS
Redirections are a permanent or temporary way to redirect links if you change your website address or website page names on a website (301 or 302 redirects).
GOOGLE BUSINESS MAPS
Google Business Maps is a free tool for businesses to manage their online presence across Google, including Search and Maps. Bing also have their own version, Bing Places.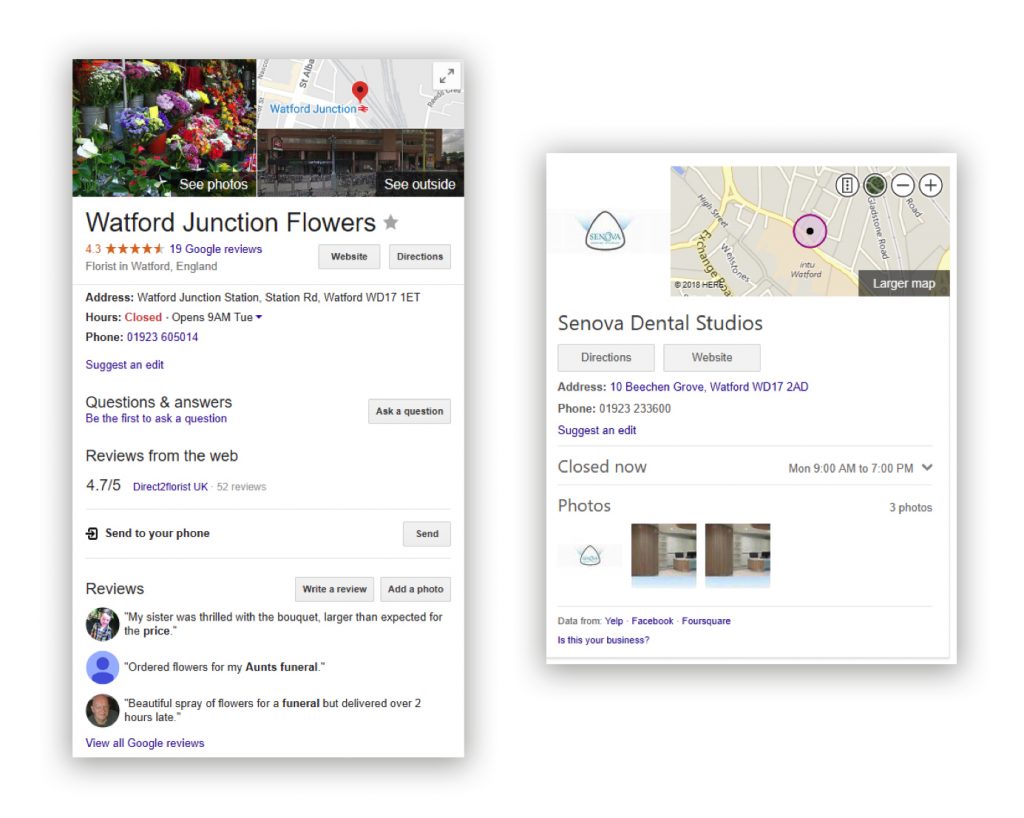 GOOGLE REVIEWS
Google Reviews Customers can also leave reviews on Google Business maps. These are needed if you wish to incorporate Stars on your search engine listings.
WHAT DO CANONICAL TAGS DO?
Canonical Tags is a way of telling search engines that a specific URL represents the master copy of a page. Using the canonical tag prevents problems caused by identical or "duplicate" content appearing on multiple URLs.
SITE AUDIT
Site Audits are partly carried out by specialist SEO software that can crawl any website to detect technical issues and provide data for analysis. Errors, warnings and notices are then worked on to improve your website's SEO. Websites are checked for over 60 common SEO issues. Scores are usually out of 100%. The example table below displays a healthy website score of 94% with zero errors, however, there are a number of warning and notices to investigate and resolve.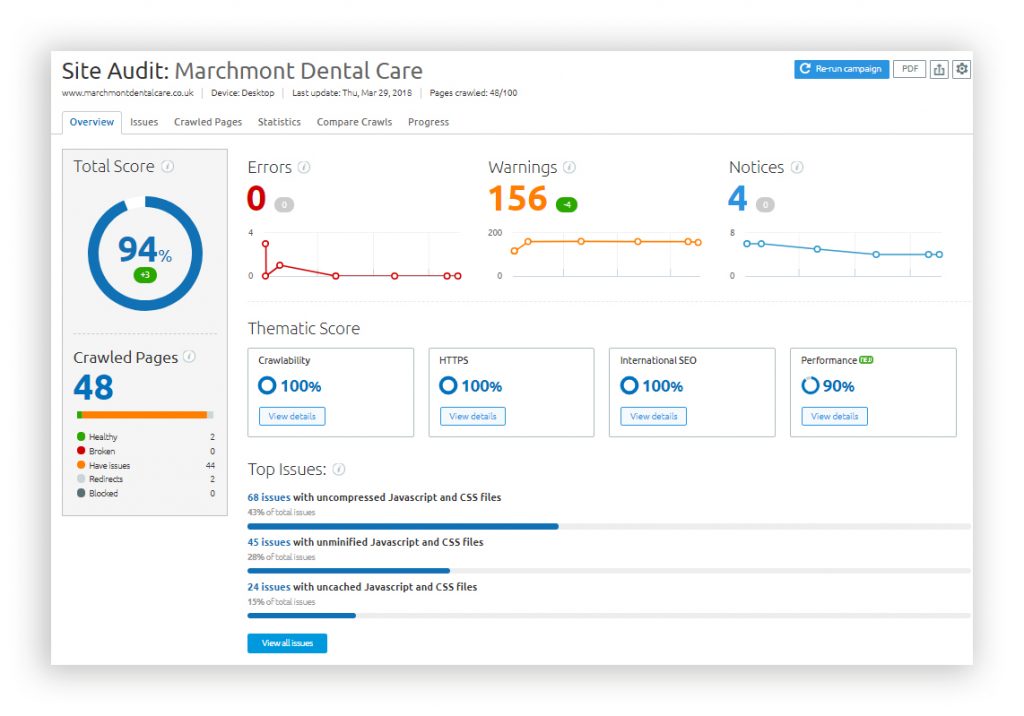 WEBSITE SPEED
Speed Audit is another SEO tool that can crawl any website to detect speed issues and provide data for analysis. Any problems found can be worked on to improve your websites download time. Scores are letter eficiency graded and also out of 100%.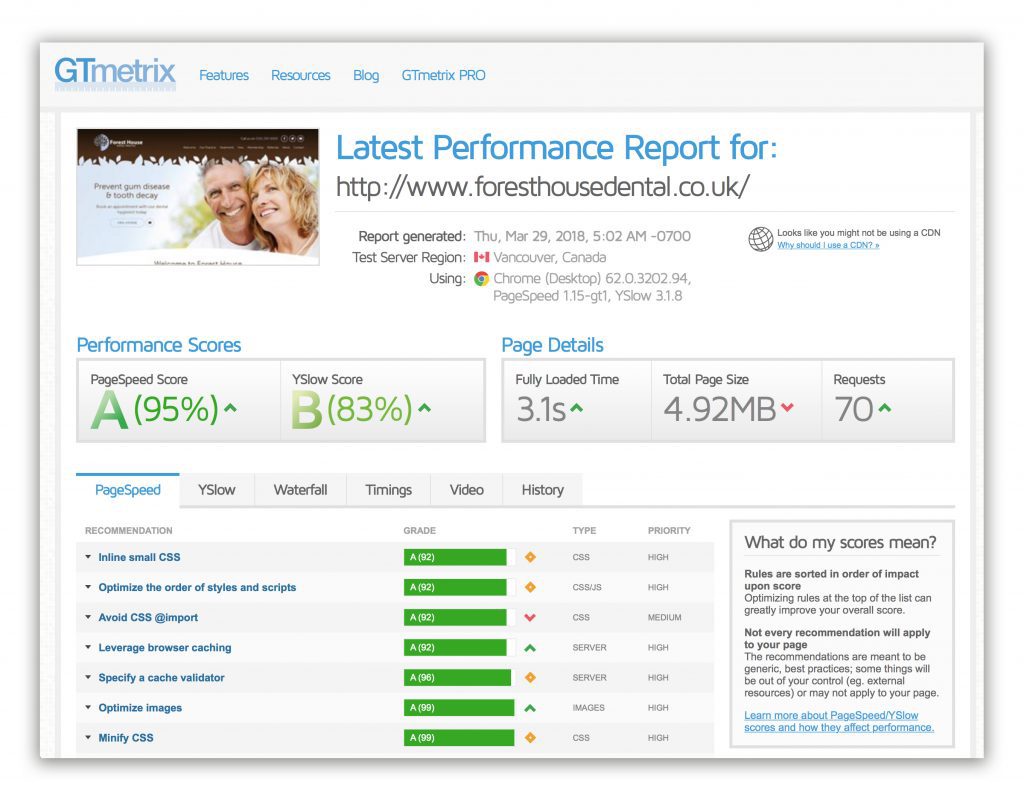 WHAT IS HTTPS?
https Whenever you're searching the Internet, you may have noticed the HTTP preface that tends to come before every website address.  There is another form of HTTP that is widely used, and it is HTTPS, otherwise known as hypertext transfer protocol secure. What this means is that the information contained on a website, or information entered into a website, is secure. Most banks, credit card companies and online retail stores will use HTTPS in order to keep your account or payment information secure.
WHAT IS A SITEMAP?
Sitemap is a list of pages on a website which forms a structured listing page intended for web crawlers such as search engines. A sitemap tells the likes of Google, Yahoo or Bing which pages are in your website.
SOCIAL MEDIA
Social Media are websites and applications that enable users to create and share content or to participate in social networking.

SOCIAL MEDIA SHARING BUTTONS
Social Media Sharing Buttons are dedicated logo icons or buttons on certain pages of a website. They benefit SEO in two important ways; by encouraging and making it easy for readers to share website content, and helping to drive relevant traffic to the website. As these shares are re-shared by social media connections, the ripple effect widens (sometimes rapidly and enormously) — this is what most people think about when they say something has gone "viral." Also, as more relevant people read website content, more opportunities for natural links arise, as these readers mention it and link to that content on their blogs and websites.
YOUR DENTAL SEO TEAM
design4dentists are available to speak to about all aspects of dental SEO and how it can benefit your dental website. If there are any SEO terms not listed in this blog which you have heard about, simply call 01923 609770 to speak with a member of our SEO team or contact Alex Nicolaou if you would like more information.